Risk Assessment
When the Fire Officer Calls... ARE YOU READY?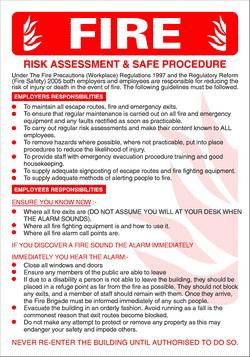 Breaches of the Fire Safety Order (2005) fall under criminal law. Cases are heard in the magistrate's court where fines of up to £20,000 can be issued. Serious breaches can be referred to the crown court where the maximum penalty is unlimited and the court has the power to imprison those found guilty for up to 2 years.
Enforcement Officers from the local authority (usually from the local fire authority) can issue notices on the 'responsible person' if they feel there is an unacceptable level of risk. They are three types of notice, Alteration notices, Enforcement notices and Prohibition notices
Every offence under the legislation carries a £5000 fine some companies have been fined from £5000 to £250,000 and some employers have been sent to prison or given suspended prison offences.
If you are the "Responsible Person"for your premises YOU ARE OBLIGED to be compliant with the Fire Regulations which include having a suitable and sufficient Fire Risk Assessment in force.
Who Does This Apply To?
All businesses, and those that employs 5 or more employees must have a written Fire Risk Assessment.
Who Is Responsible?
If you're an owner, landlord or occupier of business or other non-domestic premises, you'll be responsible for fire safety. You're known as the 'responsible person'.
Advanced Fire - 5 Step Approach
Identify the fire hazards.
Identify people at risk.
Evaluate, remove or reduce the risks.
Record your findings, prepare an emergency plan and provide training.
Review and update the fire risk assessment regularly.
It sounds easy but unless you know what risks you are assessing and how to control them you could be putting your staff and your business at risk and as the responsible person you could be liable for prosecution.
What does a client get from Advanced Fires services?
We will visit your premise, sit down with the responsible person and go through your existing fire policy, evacuation plans and emergency procedures. The will gather information about your fire safety management and then audit the premises, identifying and explaining any issues that arise. Once the audit is complete we will produce a full Fire Risk Assessment document, delivering and explaining it to your responsible person. We will identify and explain any solutions to your fire safety issues always trying to identify the most cost effective option. The Fire Risk assessment booklet also contains a full years log for recording all of your inspections and tests, they are all kept in one place making it easy to manage and understand.
Common Mistakes Businesses Make
The risk assessment was in place but not being managed
The staff were not aware of the risk assessment
Staff had not received training
There was no risk assessment in place
Control measures for risks were not being implemented
Staff were allowed to ignore fire regulations
ACT NOW! - Don't leave it too late!
For a FREE quote, complete the form below or call 01522 687092